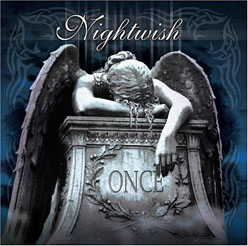 Each new Nightwish release gets bigger and better than the last one.
Once
is their best so far. The sound is HUGE on this album and it's easily one of the best produced albums of the year. Seriously, every track hits it's mark. The musicianship is unbelievable and Tarja's vocals are as powerful as ever. "
Dark Chest of Wonders
" starts the CD off with a great guitar riff and the songs have an almost cinematic feel to them. There are eleven songs on the album and every one is fantastic, even if one is sung in Finnish (
Kuolema Tekke Taiteilijan
). I don't know, it must be something in the water over in Finland,
Once
is the second CD of the Month from a Finnish band so far this year. Viva' La Finland! The disc gets
*****
out of
*****
. Perfect.