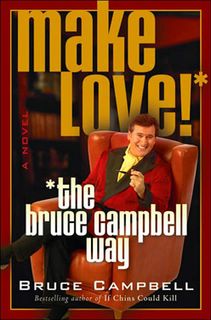 The Chin's second foray into the publishing world is just as an entertaining read as his debut,
If Chins Could Kill, Confessions of a B-Movie Actor
. Long held in my heart as one of my favorite actors, Bruce puts on display his unending wit and humor as he describes his misadventures trying to become a part of a big league "A" list movie starring Richard Gere and Renee' Zellweger. As the movie unwinds around him and blame is cast upon the "B" movie actor, Bruce takes to some desperate measures to clear his name and save his reputation. Filled with laugh-out-loud pictures and action sequences as only The Chin could write, this is a must read for any genre fan or any fan of humorous stories. Even better than his first, this book gets
*****
out of
*****
. Noboby can pile it on like Bruce Campbell.